If you're not sure whether or not your device is supported, you can test it using the sample below. Just click or tap the jacket cover.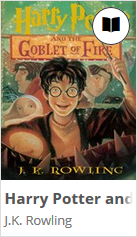 For the best reading experience, we recommend using an up-to-date browser, like one of these:
Chrome
Firefox
Safari
Internet Explorer 10 or better
OverDrive Read compatible devices
Note: This is not a complete list. If you do not see your device here, you can use this sample of Harry Potter and the Goblet of Fire to test your browser.
Android v2.3+ (best with Chrome)
Example: Samsung Galaxy and Google Nexus devices
iOS v6.0+
Example: iPad 2 or newer
Kindle Fire HD and HDX
Kobo Arc and Arc HD (best with Chrome)
Linux (best with Chrome)
Example: Ubuntu and Fedora
Mac OSX (best with Chrome)
Windows XP, Vista, 7, and 8 (best with Chrome)