Skip to Main Content
It looks like you're using Internet Explorer 11 or older. This website works best with modern browsers such as the latest versions of Chrome, Firefox, Safari, and Edge. If you continue with this browser, you may see unexpected results.
Awards
Landmark Libraries 2015
The New Landmark Libraries competition, run by Library Journal since 2011, selects "the best public library projects completed between 2010-2014." Newly completed projects are judged on their utility and design aesthetics, but also on how well they represent and resonate with their communities. Judges who chose the East Baton Rouge Parish Main Library at Goodwood highlighted the sustainable construction, increased and improved community gathering spaces, use of color and texture, and focus on expanding services to at-risk or in-need groups in the community as reasons to choose our new building as one of the New Landmarks.
AIA Baton Rouge Rose Awards 2015
The Baton Rouge Chapter of the American Institute of Architects awarded the new Main Library with one of its 2015 Rose Awards for oustanding design and function. You can read detailed descriptions of each part of the building's design, and how it contributed to the library's selection for the award, on the AIA Baton Rouge 2015 Rose Awards website.
Metal Construction News 2015 Building and Roof Award
Metal Construction News awarded the Main Library with the 2015 Building and Roof Award for New Metal Roofing for the multilevel design and unique and complementary choice of construction materials featured in the roof on the Main Library. Of particular note were the careful allowance of natural light into all levels and almost all administrative offices and workrooms and the usage of zinc, a metal that will age and patina in a way that best complements the other building materials.
2015 Library Design Showcase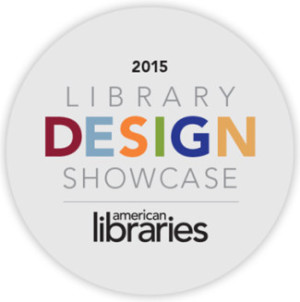 The American Library Association's Library Design Showcase higlights new and renovated libraries that "address user needs in unique, interesting, and effective ways". The Main Library was chosen in an "At One with Nature" category because of the efforts that were made to take advantage of the beautiful nearby parks and botanic gardens in the design and construction process.
LEED Silver Certification
"The new main library was also the first city building project to pursue Leadership in Energy & Environmental Design (LEED) certification through the principles of sustainable design. The design embraces many energy efficient and environmentally friendly design features, and meets the requirements for LEED Silver Certification." CJ Architects
Engineering News-Record Regional
The Engineering News-Record Texas & Louisiana Region, which judges engineering projects for Arkansas, Louisiana, Mississippi, Oklahoma, and Texas, awarded the Main Library both "Best Overall Project of the Year" and "Best Government/Public Project".
You can find more information about each award in the following press release documents, originally published in December 2014 and January 2015, respectively.